SPARC at PV SAT -9
Post date: May 23, 2013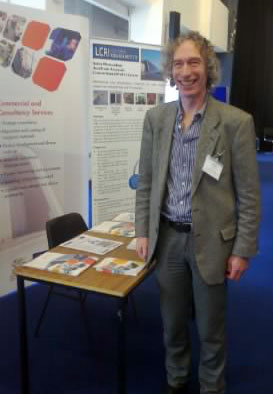 LCRI's Professor Stuart Irvine, and Dr Charlie Shelton from the SPARC team recently attended the 9th Photovoltaic Science Application and Technology (PVSAT-9) Conference and Exhibition in Swansea University.
The conference, which was part sponsored by LCRI's SPARC team, was organised by the Solar Energy Society & PVNet-UK, is the premier PV events in the UK, creating a platform for professionals and researchers to discuss latest discoveries and technologies, and to explore how the PV community can respond to the significant challenges of their field.
2012 has proved a very challenging year for the global PV community. Topics discussed included the oversupply of product driving down prices and profitability in the PV market, developing the new PV technologies to take cost below €0.4 /Wp, developing storage systems at the domestic and multi- megawatt level and how to predict control and monitor PV performance to allow grid penetration of PV generation to well above 10%.
The conference included a wide variety of speakers presenting papers discussing, among others, the history of Photovoltaics, The Feed-In-Tariff scheme, ultra-thin PV cells, and a poster exhibition, displaying PhD work from current PV students.
Professor Irvine said "We were thrilled to be able to sponsor this year's conference in Swansea which is home for the LCRI SPARC Power electronics and organic solar cell teams. This was a chance to showcase the great research being carried out on the SPARC project with a total of 6 presentations covering all aspects of the research. I was very pleased with the feedback from the conference on the LCRI SPARC project and in particular the extent of the collaboration across the different research teams."